A brief history of Clarice Cliff's life

Clarice Cliff is, today, regarded as one of the most influential ceramics artists of the 20th Century and her work is collected, valued and admired the World over.
There are far too many interesting stories about Clarice and her creations to tell here on a single page, but as a good starting point some pictures of the lady herself and a few key facts will give you an insight into Clarice Cliff the person.
Key Facts:
Clarice Cliff born on January 20th 1899 in Tunstall, Stoke-on-Trent.
Clarice started work at the age of 13 in 'The Potteries'.
Moved to the AJ Wilkinson's pottery factory in 1916.
Clarice given her own studio. The famous 'Bizarre' wares launched 1927.
She marries her then boss, Colley Shorter, in 1940.
Moves with Colley to Chetwynd House, with its stunning gardens.
The factory continues to produce pottery bearing Clarice's name until 1964.
Following Colley Shorter's death Clarice sells the factory to Midwinter's.
Clarice retires to Chetwynd House.
The first Clarice Cliff exhibition takes place at Brighton in 1972 and Clarice provides comments for the catalogue.
Clarice Cliff dies suddenly at Chetwynd House on 23rd October 1972.
1999 celebrated Worldwide as Clarice's Centenary year.
Want to find out more? Become a member of ClariceCliff.com and access the full version of this website.
BECOME A MEMBER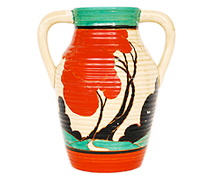 VALUATIONS
---
Do you have an item you would like to have valued? Ask our experts.
Request valuation >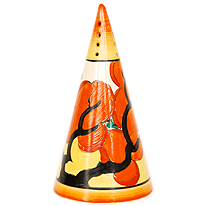 CLASSIFIEDS
---
Are you privately selling a piece of Clarice Cliff or looking to buy? Browse the classifieds...
View Buy/Wanted > View Sell >